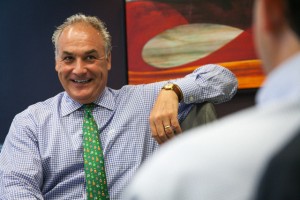 Executive Coaching Services
"What would you attempt to do if you knew you could not fail?"
The author is unknown and is the origin of the mantra "Execute. Lead. Perform."
"I believe every person wants to be successful professionally and personally. It takes courage and one's ability to stretch themselves, go out on a limb and take a chance. So many of us never take that leap because we doubt ourselves, feel we will fail or just want to blend in with the crowd. I believe each of us want to succeed and sometimes it takes a coach or person to help one see their potential and feel confident to take action.  These core beliefs are what sparked my desire to be become trained as a coach." — Clay Parcells
Execute. Lead. Perform.
Leaders must execute, lead and perform in today's demanding business environment in way that engages their teams to improve corporate performance. Executive coaching is a powerful tool to help leaders who are seeking to elevate their leadership capacity and team performance.
Coaching is a relationship between the client, sponsor organization and the coach. This relationship is built on three important platforms:
Mutual Respect
Mutual Trust
Mutual Freedom of Expression/Confidentiality
At Executive Leadership Performance (ELP), our leadership coaching offering is based on a four step process that links coaching practices with the achievement of real strategic objectives.  This process works with coaching individual leaders and leadership team coaching.
Step 1. Alignment with Organization
We align coaching goals with the strategic objectives. It is the foundation on which our success is built. We work with leaders, their managers and other stakeholders to:
Define in detail the coaching objective(s) for the leader, manager and organization.
Understand the situation of the leader, culture of organization and environment on which it operates.
Determine how the coaching effectiveness, leader performance and business outcomes will be evaluated.
Step 2. Design the Coaching Plan
Comprehensive information gathering, using various assessments tools and processes (if needed). Review current performance reviews, associate survey results and any assessments already in place to facilitate the leader creating their development plan for coaching:
Measuring the leader's strengths and opportunities for growth by means of 360 degree feedback and other assessment tools.
Creating a coaching plan and action plan with the leader.
Leader shares coaching plan with sponsor.
Step 3. Coach the Plan to accelerate performance
Once the plan is created and approved by client and shared with sponsor:
Coach to plan by conducting 1 on 1 sessions and provide real-time feedback. Sessions are in person or over the phone.
Step 4. Conduct Feedback sessions with sponsor and leader.
Leader presents their evaluation of their performance to plan and coach discusses measurement of coaching impact on organizational performance and results.
Plan for future action if necessary.
Once the coaching engagement is near completion or immediately after the coaching process is completed, an evaluation of the coaching performance is conducted by the sponsor organization, client and coach.
For more information on how team coaching can help your organization, contact us today.