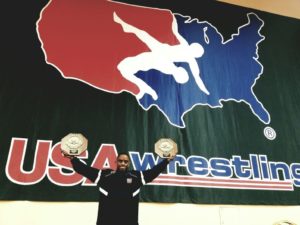 I am privileged to know a remarkable young man, Roger Stewart-Frederick. Roger is a personal trainer at my health club. He is also the wrestling coach at a prestigious high school in the D.C. area, an accomplished Roman Greco and freestyle wrestler who competed on the world stage.
Roger has succeeded in life despite being born 3 months premature and losing his hearing at age 5 due to premature birth related issues. Roger, with the help of many doctors, mentors, coaches and his family, learned to speak, play musical instruments, complete a college education in Sports Management and successfully compete in Greco and free style wrestling at the Deaf Olympics where he took home the bronze metal.
Roger is an inspiration to me and to others he serves. Even during the most difficult times, he does not quit. He is successful because of his undying commitment to better himself. He does this in several ways; by never using his disability as an excuse, his humility and his unfailing trust in God.
Even when he fails, and by the way we all fall short sometimes, he uses what he has learned from the experience to make himself a better person. His life is all about committing to excellence through his faith, his relationship with others and his dedication and determination to succeed.
Commitment is a habit for Roger. How about you? What are you committed to? Who are you committed to? Commitment is the habit that produces transformational change in us and produces security in our relationship with others.
As a leadership coach, I have the privilege of working with leaders who want to improve themselves and their leadership skills. When leaders are successful at changing it is because they are committed to learn about themselves and change their behaviors. They are committed to the coaching process and learning new skills. Leaders who make commitments to improve their inner self will succeed and change how they show up, lead and relate to others.
What are the commitments you need to declare to better yourself and change? Commit to something and tell others about it so they can hold you accountable. Doing so will help you lead a more rewarding and fulfilling life.
If you are wondering how I can help you fulfill your commitments or change your culture in other ways, send me an email and let's set up a call to discuss. Helping leaders and their organizations grow is my passion.