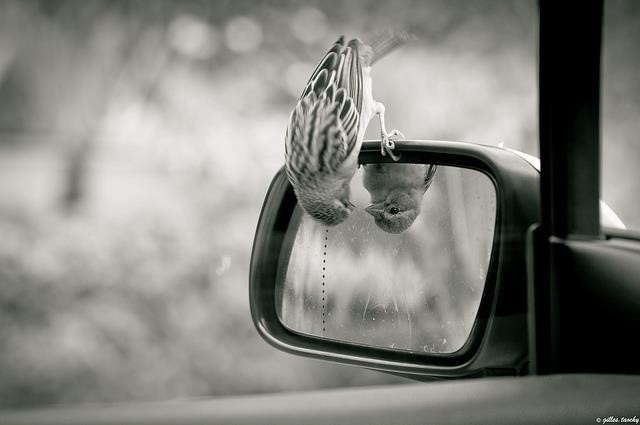 I love this picture of this bird looking at itself in an upside-down position.   It is a great visualization of what leaders need to be doing as we wind down the year.  Leaders need to reflect on their leadership. This is not a once a year thing but it should be a practice you do all the time.  Some of the best leaders I have worked with as a leadership coach are amazingly reflective about their leadership.  They get feedback on how they are doing by asking themselves and their team questions about their leadership.   They take notes or journal on their daily activities on what they have learned, what they need to build on, what they are noticing about themselves as they show up to work and what is driving it.   They then take action.
Great leaders are always learning and getting better.  I always say if you are not developing as a leader, you are not leading.   Today's complex work environment is challenging and leaders need to refine their skills to continue to be successful.  Leaders I work with are constantly asking questions and reflecting on the answers they receive. They ask their teams and themselves great self-reflective questions such as:
What specific behaviors and abilities went right and well this year as respects to my leadership?
What leadership abilities and behaviors did not go so well?
What do I need to do differently to better serve you?
What are the behaviors I need to start doing to be more effective?
What behaviors do I need to continue?
What behaviors should I stop doing?
If you are not regularly doing this work, START.  Turn yourself upside down and reflect on your leadership and what is working and what is not.  Make the necessary adjustments to your behaviors and create a development plan on the one or two areas you are going to further develop as a leader.  This is not easy work and it takes some time.  Invest in yourself and see your leadership soar.
Have a blessed Holiday and a Terrific New Year.