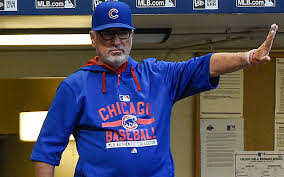 As a diehard Cub fan I was disappointed that my beloved team fell short of making it to the World Series. We were beat by a better team in the National League Championship Series. As much as the pundits want to say, there is a curse, a black cat or Bartman is to blame, we got outplayed. Plain and simple.
The Cubs got farther than anyone thought they would. They were able to accomplish so much more because of their leader, Joe Maddon in his first year as Manager. What can we as leaders learn from Maddon that we can use to help our teams excel.
When Maddon was hired in November of 2014 I watched and carefully listened to his first press conference at the Cubbie Bear Lounge across the street from the iconic Wrigley Field. Joe's comments exuded leadership qualities of (honesty, transparency, vision, hope and teamwork.)   As a leader, here is what you can learn and apply to your situation:
It's about the team not the individual leader!
Maddon, before he took the position made sure he and the President of Baseball Operations, Theo Epstein and owner Tom Ricketts were on the same page as to what the team needed to accomplish. They were also crystal clear on how they would work together, and what each person's roles and expectations were. Being clear on how the team works together and having clearly defined roles is critical to team success.
How is your team performing? Is the team working well? Is your team on the same page? Are the team roles and responsibilities and expectations clearly defined?
It's about a vision!
Maddon was clear what his vision was for the Cubs…making the playoffs in 2015. He believed it and from that day forward and throughout spring training and during the season he kept talking about that vision and inspired the team to achieve it. The entire organization bought in and excelled, ultimately achieving that vision. After the Cardinal series I heard Maddon in an interview state that he purposefully, throughout the season put his players in situations that prepared them for playoff baseball. That is living the vision!
What is your vision for your business? How do you live it and communicate it throughout your organization? How often do you communicate your vision? How do you inspire your team to achieve it?
It's about developing and leading the talent to achieve the vision!
Maddon inherited a young and talented team and picked up some key free agents before spring training. As the leader of the team he inspired each member to reach for excellence and sacrifice individual accomplishment for team success. He managed each personality differently and made strong personal connections with each player. Connecting and building honest, transparent and trusting relationships with his players is a cornerstone of Maddon's style and success as a leader.
Look at what they achieved together…the third best record in baseball with 97 wins and making the playoffs. In addition, two members of the team should receive Rookie of the Year and Cy Young Award honors. Both players exceeded expectations because Maddon created the environment for them to develop and excel. In fact the entire team exceeded expectations. That is the kind of environment leaders need to create.
How are you developing your team? Are you leading and managing people differently or the same? What kind of environment or culture are you creating as the leader in your organization? How effectively are you connecting with your team?
Joe Maddon and my Cubs may not have made the World Series, but they achieved Maddon's vision of making the playoffs. Maddon and the team inspired a great city and Cubbie nation. It gave it hope, it made summers fun again on the north side of Chicago. The team succeeded.
You can learn a great deal about effective leadership from Joe Maddon. As a Cub fan I am so much looking forward to next year. I am confident Maddon's vision will not only be same, but it will also include not just making it to the World Series but bringing home to Cubbie nation a World Series victory.