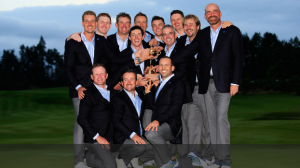 We can learn a great deal about leadership and effective team work by reviewing the outcome of the 40th Ryder Cup this past weekend at Gleneagles in Scotland.  Europe won again and they soundly defeated USA for the 8th time in the last 10 matches.
Why did Europe win again?  There are lot of reasons including they had better players who finished stronger, had greater resolve and had a system of success that no matter what Captain was selected would be followed.  I believe the major reason why the Europeans played better and finished stronger was because they came together under Captain McGinley's leadership with a single purpose and vision…to retain the Ryder Cup.  Captain McGinley, who was picked by the players, was a passionate, visionary leader who inspired his team to victory.  The 12 men became one under his leadership. They were 100% behind their Captain, they believe in him, trusted him to make the right decisions and they stood by his decisions.  The European team was committed to the cause, to each other and they were focused on the prize.
On the other hand, the Americans were led by a legendary Captain Watson who was picked by the PGA to be the savior.  Watson is a golf icon and he was charged to bring back the Cup.  Team USA was not a high performing team this past week.  First, they were not committed to each other and their collective success.  One member of Team USA did not fly over with the team and instead took his own transportation.  A true team member would have had the best interest of the team ahead of his own and would have been on the team plane as it left Atlanta.  The leader or Captain should have made it mandatory and not given any concessions unless it was an emergency.  Not a great start to mold a team…showing favoritism or conceding to the demands of one single player.
Second, members of Team USA during and after the competition were sharing their dissatisfaction with Captain Watson's leadership, vision, strategies and decisions.  One player was extremely disappointed that he sat out the entire second day and made his opinions known loud and clear.  This probably caused some dissention on the team and may have had a big impact on the performance of the group the rest of the competition.
Clearly there were some things Captain Watson could have handled differently and he should have been more flexible in his approach.  Leaders need to adapt and be flexible and not so rigid.  However, based on what I know now, the USA Team stood as 12 individual players and Europe stood as ONE.  Europe had retained and won the Ryder Cup even before a ball was teed up. That is why they won!  Well done Team Europe!
Leaders need to be keenly aware how effective their teams are working and performing together.  Leaders need strong self awareness skills and they need to look at themselves and ask what kind of culture are they creating that leads to effective teamwork or not?  One of my last leadership blog postings addressed the culture leaders create and why it trumps strategy every time.
http://www.executiveleadershipperformance.com/uncategorized/culture-trumps-strategy/
Leaders need to ask how the team is performing?  What is the team doing well, what can they do differently to help get to where the team needs to go?  Are all team members on the same page or do they different agendas?  Is the team all in and focused on the one goal, the one thing that will lead the team and organization to be successful?  By carefully answering these questions and getting feedback from the team, leaders can identify what is working and what needs to change to drive performance and exceed their goals time and time again.  
What kind of team do you want to lead?  I suggest take the play book of what Captain McKinley and Team Europe did this past week and follow it.