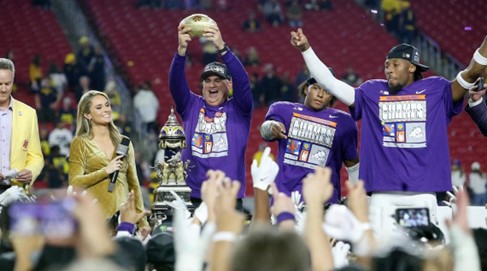 Happy New Year! I woke up on new year's morning with a grateful heart and a big grin on my face. My alma mater, Texas Christian University is playing in the CFP National Championship game against a very strong Georgia football team.
We got here for a lot of reasons. Our new coaching staff and the culture of winning, our commitment to each other, the University and our fast and physical and never say die, leave it all on the field mentality. However, I strongly believe the number one reason we are playing for the National Championship is our belief in ourselves, our team and our coaches and staff.
We have been doubted for years by the national media, football pundits, the CFP committee and most of the country. They did not believe we had the "stuff" to succeed. It is amazing what you can do when you believe in yourself and your abilities and let go of what others think of you. Former Coach Gary Patterson instilled this belief in our program and Coach Dykes has taken it to the next level. Yes, we have a chip on our shoulder always fighting for credibility. It is a part of our program. We believe in ourselves first and then we get to work. It's the Horned Frog way.
As a leadership coach, I notice many leaders who validate themselves on what others think of them and their accomplishments. To help and support them I encourage them to embrace their story and how it shaped their identity. Many of them have successfully transformed into leaders who believe in themselves and lead authentically, from their core values, their identity and purpose. They peel away the layers of outside validation and believe in themselves and their own value and let go of the belief their worth is dependent on the positive regard of others.
With a strong belief in yourself, you can accomplish amazing things. Lead from within. TCU does individually and collectively. You can do the same. Believe and lead!