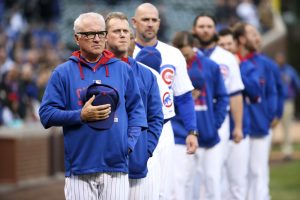 My last post talked about Maddon's 13 principles he uses to manage and lead his life and his team. The foundational tenant for Maddon is: Make A Personal Connection First: Everything Else Follows. Read it here. His second principle is simple.
There is Only One Rule
The one team rule is "Respect 90". It is the message Maddon paints on the Cubs practice field during spring training. The "90" refers to the number of feet between bases. "Respect 90" captures the sentiment that if you give respect you get respect in return. It is about giving your all to your endeavor, working hard and making others better in addition to yourself. It is a real commitment to respect self, respect team and respect others. This is about being selfish and selfless.
In my work with leaders, I have frequently worked with executives who have a hard time saying NO! They work so hard to please others and eventually they get exhausted and worn out. They burn the midnight oil because they are doing too much themselves when they should be delegating, influencing others and focusing on their strategic priorities. They have stopped respecting and taking care of themselves. As a leader, it is virtually impossible to make others better if you are not taking care of yourself first. I always say, "to be a selfless leader you need to be selfish". You need to honor, respect and take care of yourself first.
Here are a few questions to ask yourself and offer to your team to discuss.
As a leader how respectful are you to yourself?
What are you doing each day to honor your commitments?
What standards or values do you lead by? Is respect one of those? What does it look like behaviorally?
What are you doing each day to improve yourself and those around you?
How respectful are you of others?
"Respect 90" is so simple but powerful in its meaning. Respect others and they will respect you. Respect yourself in order to make others better. Commit to making yourself the very best you can be. Respecting others opinions and talents, having respectful conversations and helping others be their very best will help you and your team soar to greater heights.
What is your playing field? What is your one rule? Respect it, respect self and others.