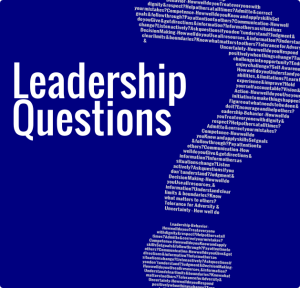 I met with a leader this past week who was very frustrated with his team and their hesitation or resistance to provide meaningful perspectives and insights about an important issue facing the organization.
We talked about the meeting and what he was observing about his behaviors and actions. With some probing, he was able to see he was directing the conversation and telling his team what he wanted done and how it should be executed. He recognized he was doing a lot of the talking and not asking questions. I asked him what he wanted to change and why. He said, "I want my team to tell me things I need to hear and not be fearful of doing so that I can get the best advice and counsel to help me lead this organization."
Does this sound like you? It is common that leaders can become isolated due to their position and power. Their team(s) often tell the leader what they think they want to hear or are fearful of sharing what they believe the leader does NOT want to hear. Who is this helping? No one! This behavior over time will have a negative impact on performance of the executive, their team, and organization.
As an executive coach, it is my job to help the leader become more self-aware of how they are showing up and how their behaviors impact individual and collective performance. By becoming more self-aware, the leader can assess their situation and behaviors and then make the necessary adjustments to change.
How can a leader create an environment to encourage others to speak up and provide meaningful feedback and insights to help the leader, the team, and organization thrive?
I suggest three actions and they start with you.
1. Create a culture of openness and honest feedback. Be clear what behaviors you are expecting your team to demonstrate and why. As a leader, you must spell out and demonstrate the behavior(s) of open, frank, honest, and real communications and feedback with each other. Create a trusting environment where your team feels comfortable sharing their perspectives and points of view with all present. Culture starts with you!
When Alan Mulally joined Ford Motor as the CEO he found a culture of back stabbing, shifting blame and a lack of sharing information and supporting each other. Mulally changed the culture at Ford by creating a vision for moving the organization forward and being clear and specific what behaviors and actions he expected from himself and his leadership team. Through patience, hard work, and a relentless passion and enthusiasm he was able to shift the culture that helped Ford through challenging times and become the #1 auto company in the world.
I recommend reading the book American Icon by Bryce Hoffman. It is a fabulous read about one of the top business leaders of our time.
2. Be willing to humble yourself and be vulnerable. Leaders are put in their roles because of their track records. Leaders have egos and their egos can cause them to behave as if they know all the answers and have it all figured out. It is hard for a leader to say they don't know when asked a question. Check your ego and develop skills of actively listening, curiosity, and asking questions. These are humble attributes of effective leaders.
3. Stop talking and telling others what to do. Instead, ask questions. Keep asking questions until you get open, frank, and honest feedback on issues from others. Leaders need to learn to be quiet and stop talking all the time. They need to be asking probing and challenging questions and encourage everyone's participation in providing their views and opinions even if the information is counter to what the leader wants to hear.
I recommended two exercises to the leader I mentioned earlier to help draw others out. The first was to keep 3×5 index cards that said STOP TELLING! ASK QUESTIONS! with him as he attended every meeting or briefing with his stakeholders. This simple reminder enabled him to slow done and ask questions. The second was to take time (10-15 minutes) alone before every meeting to gather himself and think about how he wanted to show up and to prepare a list of questions he wanted to ask his team.
I strongly recommend reading Bursting the CEO Bubble from Harvard Business Review and Quiet Leadership by Dr. David Rock for more insights on asking more questions.
It is lonely at the top. In fact, any leadership position can leave you isolated. As a leader, it is your job to burst the bubble around you and create a culture that encourages open, honest and frank feedback and observations. By doing so, you, your team and organization will thrive.
If you would like to explore this issue more with me, please contact me at clay@executiveleadershipperformance.com.